Entertainment
11 memorable Grammy Awards performances throughout the years
For 60 years, we've witnessed some of the most talented and celebrated artists take the Grammys stage to perform, and pick up an award or eight. You can bet that there will be a few surprises this year as The Recording Academy gears up to honor musicians for artistic excellence in a variety of categories.
Count down to music's biggest night with 11 performances from the past that we're still talking about today.
The 61st annual Grammys will air live on Sunday, Feb. 10 on CBS at 8 p.m. ET/5 p.m. PST from the Staples Center in Los Angeles.
Beyonce, "Love Drought" and "Sandcastles" (2017)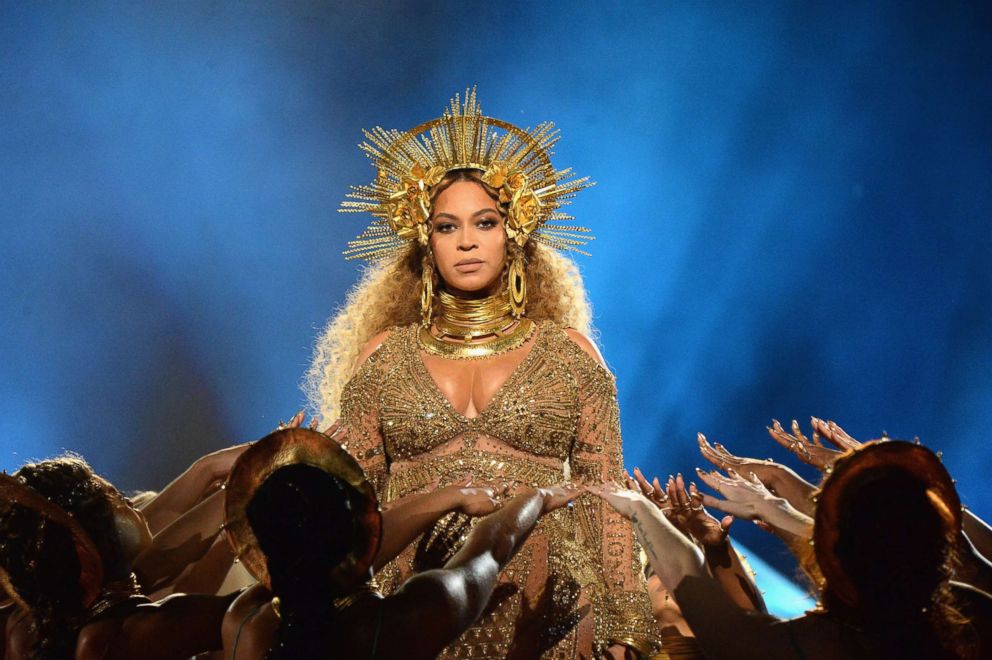 In 2017, the Grammys promised a Beyonce performance "that would have everyone talking." As we all know, she delivered on that promise — exceeding expectations and defying gravity with one of the most memorable performances in Grammy history.
Her nine-minute, jaw-dropping visual spectacle — made more impressive by the fact she was pregnant with twins Sir and Rumi — arguably set the bar for which all future awards show performances will be compared. As the Los Angeles Times reported, the performance is among "the most ambitious and logistically complex live segment the Grammys, or any other awards show, has attempted."
Adele, "Hello" (2017)
It would be nearly impossible to discuss the 2017 Grammys without mentioning Adele. Along with the nearly 25 million viewers who tuned in that night, she had us at "Hello," opening the show with her No. 1 single that spent 10 weeks in the top spot on Billboard's Hot 100 chart.
Later that night, she paid tribute to George Michael with an equally memorable, stripped-down version of "Fast Love," in which she bravely asked to start over mid-song, announcing, "I can't mess this up for him."
And if her performances weren't enough for the books, Adele took home five awards, including Album of the Year, to which she replied, "I can't possibly accept this award." Instead, she used her acceptance speech to celebrate Beyonce's "Lemonade."
Mariah Carey, "If It's Over" (1992)
In the early '90s, the world was blessed with Mariah Carey's voice, and her live performances at the 1991 and 1992 Grammys in which she effortlessly showcased her five-octave vocal range. Although both were stellar, we're focusing on her phenomenal performance of "If It's Over."
Carey takes her time, carefully singing every note of the ballad to ensure you feel "emotions" as the song builds. At the time, Carole King — who co-wrote the song with Carey — said, "She's very expressive. She gives a lot of meaning to what she sings."
We couldn't agree more.
Michael Jackson, "The Way You Make Me Feel" and "Man in the Mirror" (1988)
Michael Jackson only performed once at the Grammys — during the 30th annual event in 1988 — but he made it count, performing a medley of his No. 1 singles "The Way You Make Me Feel" and "Man In the Mirror." Both songs appear on his album "Bad."
Jackson opened his performance in silhouette, allowing the audience to focus on a few of his signature moves. When the curtain rose, he began singing a stripped-down version of "The Way You Make Me Feel" before kicking things up a notch. Without stating the obvious, the choreography is incredible, and that's only partially due to the fact that the spin and the moonwalk are incorporated. When he shifted into "Man in the Mirror," the focus is on his vocal talent, eventually accompanied by a gospel choir as he wholeheartedly convinces us to "make that change."
Whitney Houston, "Greatest Love of All" (1987)
Clive Davis, who signed Whitney Houston to his record label at 19, recalled when he first heard the future superstar sing a cover of "Greatest Love of All" at a club in New York City. "Whitney sang the song with such fervor, with such a natural vocal gift, with such passion, that I was stunned. I knew really right then and there that this was a special talent and I was blown away by her. There was no hesitation. I wanted to sign Whitney." The song would eventually make it onto her debut album and spend three weeks at No. 1 on the Hot 100 chart.
Her Grammys performance is timeless and flawless — and the way she holds the last note will give you chills. She deservedly received a standing ovation.
Christina Aguilera, "It's a Man's Man's Man's World" (2007)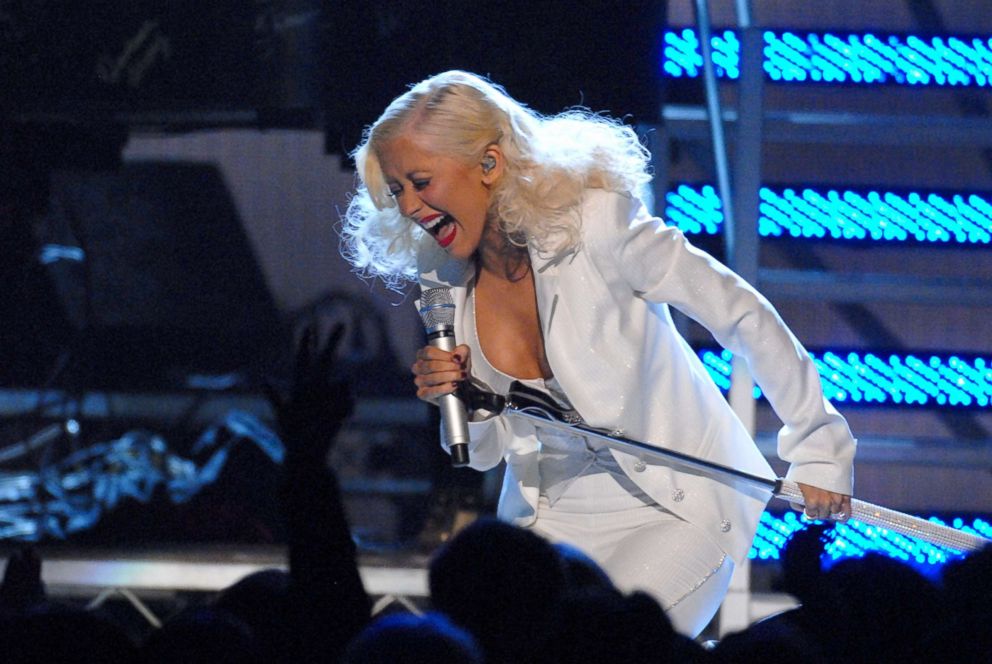 In 2007, Christina Aguilera brought down the house with her rendition of James Brown's "It's a Man's Man's Man's World." In fact, her tribute to the late "Godfather of Soul" is often referred to as one of the best live performances of all time.
Aguilera's performance was also praised by Patti Smith, who called her rendition "one of the best performances that I've ever seen … at the end, I just involuntarily leapt to my feet. It was amazing."
Aguilera later included the spellbinding cover on her 2018 Liberation Tour set list.
Amy Winehouse, "You Know I'm No Good" and "Rehab" (2008)
It was undeniably Amy Winehouse's night at the 50th Grammys in 2008, where she took home five awards (Best New Artist, Best Pop Vocal Performance, Best Female Pop Vocal Performance, Record of the Year and Song of the Year), setting a record at the time, and earning an entry in the 2009 edition of the "Guinness Book of World Records" for Most Grammy Awards won by a British Female Act.
Since Winehouse had recently been released from rehab and denied a visa to attend the ceremony in Los Angeles, she performed "You Know I'm No Good" and "Rehab" from her critically acclaimed album "Back to Black" via satellite. It was around 3 a.m. in London when Winehouse took the stage, and since her tragic death in 2011, her performance and achievements that night have become part of her legacy. Her heartfelt reaction to winning Record of the Year (announced by her idol Tony Bennett) is also captured in the 2015 Grammy award-winning documentary "Amy."
Lady Gaga, "Born This Way" (2011)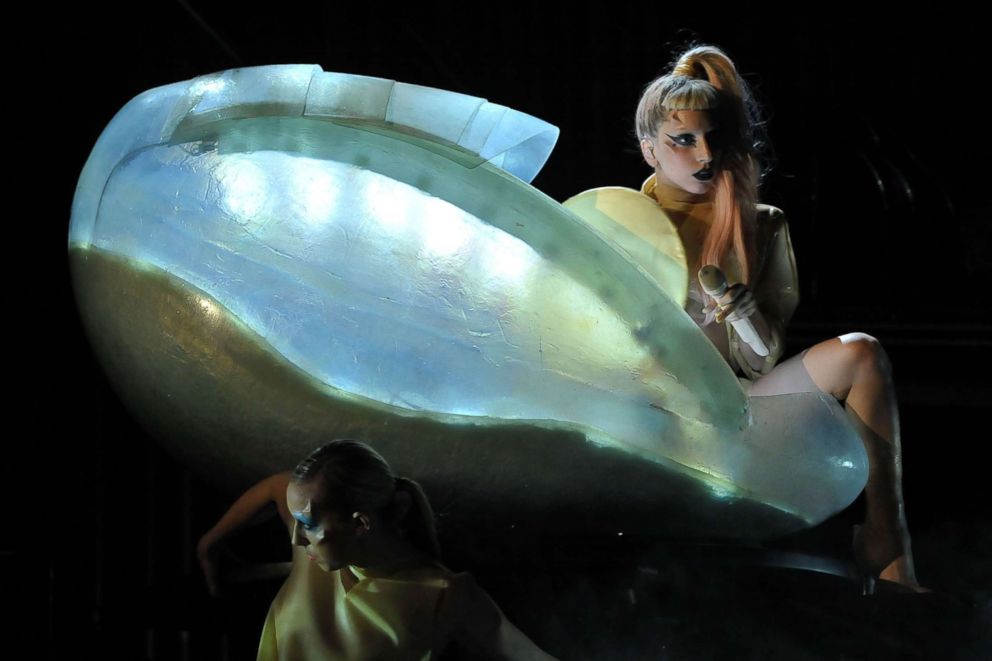 To say there was buzz surrounding Lady Gaga at the 2011 Grammys would be an understatement. How's this for an entrance: she arrived on the red carpet in the midst of a metaphorical rebirth, carried in an incubating vessel (which she claims she stayed in for three days prior as part of the creative experience) before "hatching" out to perform her No. 1 single "Born This Way." By doing so, Gaga gave us her version of "An Actor Prepares" — demonstrating her undeniable passion and dedication to her craft.
Beyonce and Prince, "Purple Rain"/"Baby I'm a Star"/"Crazy in Love"/"Let's Go Crazy" (2004)
Even music icons like Beyonce get starstruck working with their idols. Looking back on her performance with Prince in 2004, she recalled, "I was on the stage with Prince? Are you serious? I still can't believe it." She added, "Of course I was terrified to be working with him … I was overwhelmed and nervous and starstruck."
The two opened the show with a medley of four songs, and the energy between them was electrifying. If the experience of performing with one of her idols wasn't enough for Beyonce, she also took home five awards, the most of any artist that night.
Eurythmics, "Sweet Dreams (Are Made of This)" (1984)
In 1984, the Eurythmics were up for Best New Artist, which was bestowed onto another '80s favorite from the U.K., Culture Club. During his acceptance speech, Boy George thanked America for having taste, style and "knowing a good drag queen when you see one," which he later recalled had people "freaking out" at the time. "Look," he added, "sometimes the world just isn't ready."
Ready or not, that same night, Annie Lennox dressed in drag to perform Eurythmics' No. 1 single, "Sweet Dreams (Are Made of This)." The performance is so iconic it arguably inspired future superstar Lady Gaga, who opened the 2011 MTV Video Music Awards as her alter ego Jo Calderone.
Madonna and Gorillaz, "Feel Good Inc./Hung Up" (2006)
The Grammys pushed the envelope in 2006 when animated band Gorillaz performed its hit single "Feel Good Inc." as 3-D holograms. Hip-hop trio De La Soul (in the flesh) joined in for their part in the song, and yet, there was one more surprise in store.
A Madonna hologram emerged on stage and began singing her hit dance club anthem "Hung Up" as one song blended into the other. And for the grand finale, the "human" version of the queen of pop transformed the Grammys stage into a full-blown disco dance party.