CLOSE

New England Patriots wide receiver Julian Edelman was named Super Bowl LIII MVP. He talks returning from injury and jabs at postgame hug with Tom Brady.
USA TODAY
It's time for another party in Boston.
The New England Patriots will have their Super Bowl parade on Tuesday at 11 a.m. ET in Boston, mayor Marty Walsh announced early Monday.
The Patriots claimed their sixth title with a 13-3 win over the Los Angeles Rams on Sunday in Super Bowl LIII in Atlanta. The championship is the Patriots' second in three years.
The parade will be the second title celebration in approximately three months for the city, as the Boston Red Sox celebrated their World Series triumph over the Los Angeles Dodgers last year on Halloween morning.
Follow Michael Middlehurst-Schwartz on Twitter @MikeMSchwartz.
Best photos from Super Bowl LIII: Rams vs. Patriots
Posted!
A link has been posted to your Facebook feed.
The New England Patriots, left, knocked off the Los Angeles Rams 13-3 in Super Bowl LIII at Mercedes-Benz Stadium in Atlanta. Richard Mackson, USA TODAY Sports
The New England Patriots celebrate with the Vince Lombardi Trophy after beating the Los Angeles Rams 13-3 in Super Bowl LIII at Mercedes-Benz Stadium in Atlanta. Matthew Emmons, USA TODAY Sports
Quarterback Tom Brady and his daughter Vivian celebrate as they are interviewed by CBS host Jim Nantz after the Patriots' 13-3 win over the Rams in Super Bowl LIII. Mark J. Rebilas, USA TODAY Sports
New England Patriots backup quarterback Brian Hoyer (2) celebrates with the Vince Lombardi Trophy after the team's 13-3 win in Super Bowl LIII. Matthew Emmons, USA TODAY Sports
Wide receiver Julian Edelman, lifting the Vince Lombardi trophy, was named Most Valuable Player of Super Bowl LIII. John David Mercer, USA TODAY Sports
Safety Patrick Chung (23) lifts the Vince Lombardi trophy as head coach Bill Belichick talks with CBS host Jim Nance, left, after Patriots beat the Rams 13-3 in Super Bowl LIII. Jason Getz, USA TODAY Sports
Pro Football Hall of Famer and former NFL running back Emmitt Smith brings the Vince Lombardi Trophy to the stage at Mercedes-Benz Stadium. Matthew Emmons, USA TODAY Sports
Tight end Rob Gronkowski gets a kiss from girlfriend Camille Kostek after the Patriots beat the Rams 13-3 in Super Bowl LIII. Christopher Hanewinckel, USA TODAY Sports
Tom Brady (12) celebrates after winning his record-breaking sixth Super Bowl. Robert Deutsch, USA TODAY Sports
Defensive tackle Danny Shelton (71) celebrates with his wife Mara Shelton after the New England Patriots beat the Los Angeles Rams in Super Bowl LIII. Matthew Emmons, USA TODAY Sports
New England Patriots middle linebacker Kyle Van Noy (53) celebrates after defeating the Los Angeles Rams 13-3 in Super Bowl LIII at Mercedes-Benz Stadium in Atlanta. Jason Getz, USA TODAY Sports
New England Patriots offensive tackle Marcus Cannon (61) plays in the confetti with a child at Mercedes-Benz Stadium after the team's 13-3 win over the Los Angeles Rams in Super Bowl LIII. Jason Getz, USA TODAY Sports
New England Patriots middle linebacker Brandon King (36) lays in the confetti at Mercedes-Benz Stadium after a 13-3 victory over the Los Angeles Rams in Super Bowl LIII. Dale Zanine, USA TODAY Sports
New England Patriots head coach Bill Belichick and his girlfriend Linda Holliday celebrate the 13-3 win in Super Bow LIII. Matthew Emmons, USA TODAY Sports
Wide receiver Julian Edelman (11) celebrates on the field after leading the New England Patriots to a 13-3 win over the Los Angeles RAms in Super Bowl LIII. Mark J. Rebilas, USA TODAY Sports
New England Patriots quarterback Tom Brady (12) gets mobbed by reporters on the field after defeating the Los Angeles Rams 13-3 in Super Bowl LIII and setting a record for most Super Bowl wins. Mark J. Rebilas, USA TODAY Sports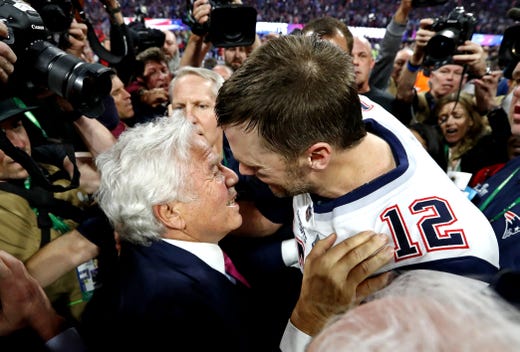 New England Patriots quarterback Tom Brady (12) celebrates with owner Robert Kraft after their win over the Los Angeles Rams in Super Bowl LIII at Mercedes-Benz Stadium. Matthew Emmons, USA TODAY Sports
Head coach Bill Belichick gets doused with Gatorade after winning his sixth Super Bowl with the New England Patriots. Richard Mackson, USA TODAY Sports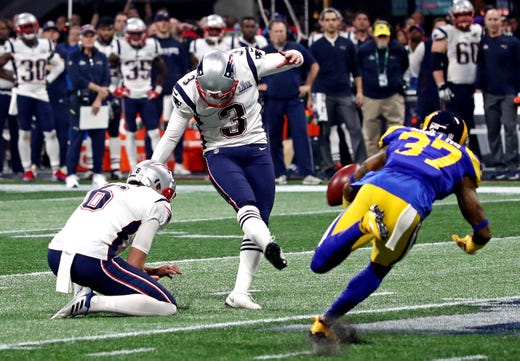 New England Patriots kicker Stephen Gostkowski (3) kicks the game-clinching field goal late in the fourth quarter of Super Bowl LIII. Matthew Emmons, USA TODAY Sports
New England Patriots cornerback Stephon Gilmore (24) celebrates with teammates after intercepting a pass to thwart a Rams rally late in the fourth quarter of Super Bowl LIII. Mark J. Rebilas, USA TODAY Sports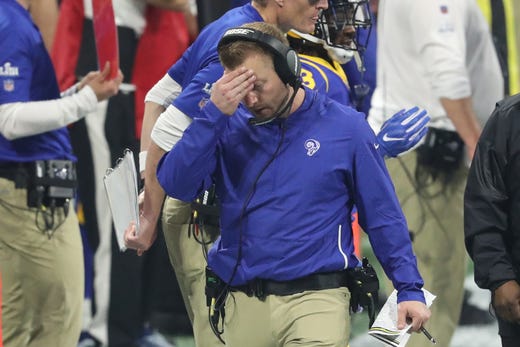 Los Angeles Rams head coach Sean McVay reacts after his quarterback threw an interception during the fourth quarter of Super Bowl LIII. Jason Getz, USA TODAY Sports
New England Patriots cornerback Stephon Gilmore (24) intercepts a pass intended for Los Angeles Rams wide receiver Brandin Cooks (12) late in the fourth quarter of Super Bowl LIII. Mark J. Rebilas, USA TODAY Sports
New England Patriots running back Sony Michel (26) celebrates with teammates after scoring a touchdown during the fourth quarter of Super Bowl LIII. Christopher Hanewinckel, USA TODAY Sports
Quarterback Tom Brady (12) celebrates after the Patriots score a rushing touchdown during the fourth quarter of Super Bowl LIII. John David Mercer, USA TODAY Sports
New England Patriots running back Sony Michel (26) cuts through a hole to score the game's first touchdown during the fourth quarter. Christopher Hanewinckel, USA TODAY Sports
New England Patriots tight end Rob Gronkowski (87) catches a pass near the goal line against Los Angeles Rams strong safety John Johnson (43) in the fourth quarter of Super Bowl LIII. Mark J. Rebilas, USA TODAY Sports
Los Angeles Rams kicker Greg Zuerlein (4) kicks a 53-yard field goal in the third quarter of Super Bowl LIII at Mercedes-Benz Stadium. Mark J. Rebilas, USA TODAY Sports
Los Angeles Rams wide receiver Robert Woods (17) makes a catch against New England Patriots defensive back Jonathan Jones (31) during the third quarter of Super Bowl LIII at Mercedes-Benz Stadium. Richard Mackson, USA TODAY Sports
Los Angeles Rams wide receiver Josh Reynolds (83) catches a pass against New England Patriots cornerback Jason McCourty (30) during the third quarter of Super Bowl LIII. Jason Getz, USA TODAY Sports
New England Patriots offensive guard Shaq Mason (69) battles Los Angeles Rams defensive tackle Ethan Westbrooks (95) during the third quarter of Super Bowl LIII. Jason Getz, USA TODAY Sports
New England Patriots wide receiver Julian Edelman (11) jukes Los Angeles Rams strong safety John Johnson (43) during the third quarter of Super Bowl LIII. Matthew Emmons, USA TODAY Sports
Los Angeles Rams punter Johnny Hekker (6) booms a Super Bowl-record 65-yard punt against the New England Patriots during the third quarter of Super Bowl LIII at Mercedes-Benz Stadium. Mark J. Rebilas, USA TODAY Sports
New England Patriots defensive end Deatrich Wise (91) looks on as strong safety Patrick Chung (23) lays on the field after suffering an apparent arm injury during the third quarter of Super Bowl LIII. John David Mercer, USA TODAY Sports
Los Angeles Rams running back Todd Gurley (30) runs the ball against New England Patriots defensive tackle Lawrence Guy (93) during the third quarter of Super Bowl LIII. Matthew Emmons, USA TODAY Sports
Recording artist Travis Scott, right, performs with Maroon 5 during the Super Bowl LIII halftime show at Mercedes-Benz Stadium. Dale Zanine, USA TODAY Sports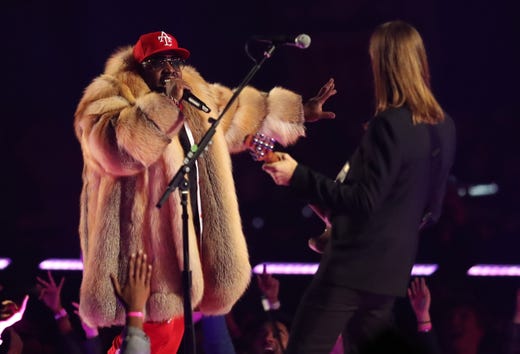 Recording artist Big Boi performs with Maoon 5 during the Super Bowl LIII halftime show at Mercedes-Benz Stadium in Atlanta. Brett Davis, USA TODAY Sports
Lead singer Adam Levine and Maroon 5 perform during the halftime show at Super Bowl LIII at Mercedes-Benz Stadium. Brett Davis, USA TODAY Sports
Marching band drummers perform during the Super Bowl LIII halftime show at Mercedes-Benz Stadium. Dale Zanine, USA TODAY Sports
New England Patriots quarterback Tom Brady (12) drops back to pass against the Los Angeles Rams during the second quarter of Super Bowl LIII at Mercedes-Benz Stadium. Christopher Hanewinckel, USA TODAY Sports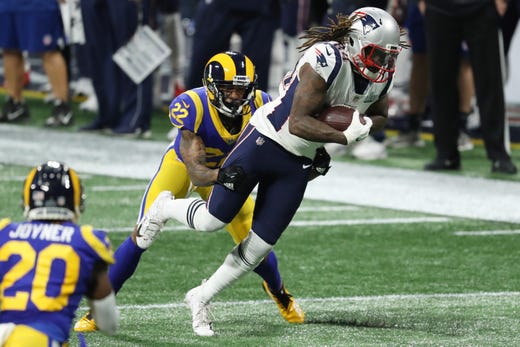 New England Patriots wide receiver Cordarrelle Patterson (84) tries to break the tackle Los Angeles Rams cornerback Marcus Peters (22) during the second quarter of Super Bowl LIII at Mercedes-Benz Stadium. Jason Getz, Jason Getz-USA TODAY Sports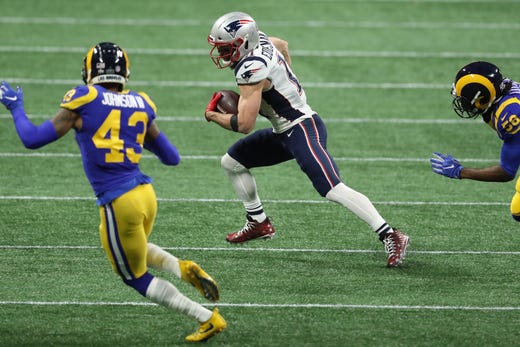 New England Patriots wide receiver Julian Edelman (11) runs after catching a pass from quarterback Tom Brad (not pictured) as Los Angeles Rams strong safety John Johnson (43) and inside linebacker Cory Littleton (58) give chase during the second quarter of Super Bowl LIII. Jason Getz, USA TODAY Sports
New England Patriots defensive tackle Danny Shelton (71) celebrates a defensive stop during the second quarter of Super Bowl LIII against the Los Angeles Rams. Christopher Hanewinckel, USA TODAY Sports
New England Patriots middle linebacker Kyle Van Noy (53) celebrates after sacking Los Angeles Rams quarterback Jared Goff (not pictured) during the second quarter of Super Bowl LIII at Mercedes-Benz Stadium. Christopher Hanewinckel, USA TODAY Sports
Los Angeles Rams quarterback Jared Goff (16) reacts after a tackle by New England Patriots middle linebacker Kyle Van Noy (53) during the second quarter of Super Bowl LIII at Mercedes-Benz Stadium. Robert Deutsch, USA TODAY Sports
Los Angeles Rams wide receiver Robert Woods (17) catches a pass against New England Patriots defensive back Jonathan Jones (31) and gets both feet inbounds during the second quarter of Super Bowl LIII. Jason Getz, USA TODAY Sports
New England Patriots kicker Stephen Gostkowski (3) celebrates with defensive tackle Lawrence Guy (93) after kicking a 42-yard field goal against the Los Angeles Rams during the second quarter of Super Bowl LIII at Mercedes-Benz Stadium. Jason Getz, USA TODAY Sports
Los Angeles Rams defensive end John Franklin-Myers (94) sacks New England Patriots quarterback Tom Brady (12), who fumbles the ball, during the first quarter of Super Bowl LIII. The Patriots recovered the fumble. Christopher Hanewinckel, USA TODAY Sports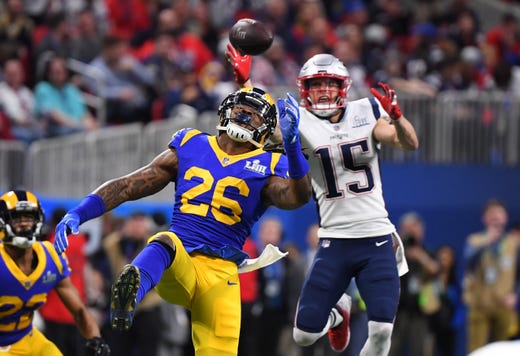 Los Angeles Rams inside linebacker Mark Barron (26) and New England Patriots wide receiver Chris Hogan (15) attempt to catch the ball during the first quarter of Super Bowl LIII. Christopher Hanewinckel, USA TODAY Sports
New England Patriots kicker Stephen Gostkowski (3) misses a 46-yard field goal attempt against the Los Angeles Rams during the first quarter of Super Bowl LIII. Jason Getz, USA TODAY Sports
Los Angeles Rams wide receiver Josh Reynolds (83) runs the ball against New England Patriots outside linebacker Dont'a Hightower (54) during the first quarter of Super Bowl LIII. Matthew Emmons, USA TODAY Sports
New England Patriots defensive end Deatrich Wise (91) bears down on Los Angeles Rams quarterback Jared Goff (16) during the first quarter of Super Bowl LIII. Richard Mackson, USA TODAY Sports
Los Angeles Rams inside linebacker Cory Littleton (58) celebrates after intercepting a pass from New England Patriots quarterback Tom Brady (not pictured) during the first quarter of Super Bowl LIII at Mercedes-Benz Stadium. Brett Davis, USA TODAY Sports
Los Angeles Rams inside linebacker Cory Littleton (58) intercepts a pass intended by New England Patriots wide receiver Chris Hogan (15) during the first quarter of Super Bowl LIII. Mark J. Rebilas, USA TODAY Sports
Los Angeles Rams free safety Lamarcus Joyner tackles New England Patriots running back Sony Michel (26) during the first quarter of Super Bowl LIII. Brett Davis, USA TODAY Sports
New England Patriots head coach Bill Belichick looks on during the first quarter against the Los Angeles Rams in Super Bowl LIII. Brett Davis, USA TODAY Sports
New England Patriots running back Rex Burkhead (34) breaks the tackled of Los Angeles Rams strong safety John Johnson (43) during the first quarter of Super Bowl LIII. Brett Davis, USA TODAY Sports
New England Patriots quarterback Tom Brady (12) throws a pass against the Los Angeles Rams in the first quarter in Super Bowl LIII. Mark J. Rebilas, USA TODAY Sports
Legendary singer Gladys Knight performs the national anthem before Super Bowl LIII between the New England Patriots and the Los Angeles Rams at Mercedes-Benz Stadium. Mark J. Rebilas, USA TODAY Sports
Singer Gladys Knight performs the National Anthem prior to Super Bowl LIII between the New England Patriots and the Los Angeles Rams at Mercedes-Benz Stadium. Richard Mackson, USA TODAY Sports
Houston Texans player J.J. Watt, right, presents the Walter Payton Man of the Year trophy to Philadelphia Eagles player Chris Long before Super Bowl LIII/ Mark J. Rebilas, USA TODAY Sports
Los Angeles Rams players take the field for Super Bowl LIII against the New England Patriots at Mercedes-Benz Stadium. Dale Zanine, USA TODAY Sports
Tom Brady (12) leads the New England Patriots onto the field for Super Bowl LIII at Mercedes-Benz Stadium. Jason Getz, USA TODAY Sports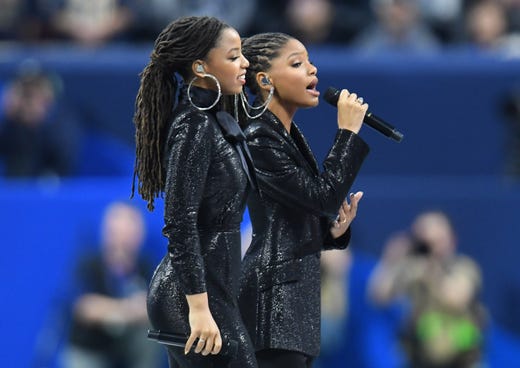 R&B sister duo Chloe x Halle perform "America the Beautiful" before Super Bowl LIII at Mercedes-Benz Stadium in Atlanta. Christopher Hanewinckel, USA TODAY Sports
Los Angeles Rams cheerleaders walk on to the field before Super Bowl LIII at Mercedes-Benz Stadium in Atlanta. Jason Getz, USA TODAY Sports
New England Patriots strong safety Patrick Chung (23) and Los Angeles Rams wide receiver Brandin Cooks (12) meet before Super Bowl LIII at Mercedes-Benz Stadium. John David Mercer, USA TODAY Sports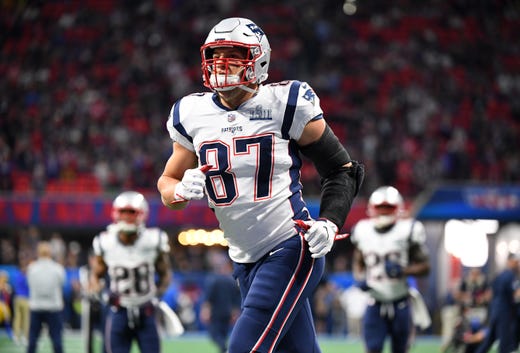 New England Patriots tight end Rob Gronkowski runs out for warmups before Super Bowl LIII against the Los Angeles Rams. Christopher Hanewinckel, USA TODAY Sports
Los Angeles Rams running back Todd Gurley tosses a football during warmups before Super Bowl LIII. John David Mercer, USA TODAY Sports
Los Angeles Rams head coach Sean McVay, right, talks with quarterback Jared Goff (16) before Super Bowl LIII against the New England Patriots. Matthew Emmons, USA TODAY Sports
New England Patriots quarterback Tom Brady gets fired up during warmups before Super Bowl LIII against the Los Angeles Rams at Mercedes-Benz Stadium. Christopher Hanewinckel, USA TODAY Sports
Los Angeles Rams wide receivers JoJo Natson (19) and Brandin Cooks (12) run onto the field for warm-ups before Super Bowl LIII at Mercedes-Benz Stadium. Robert Deutsch, USA TODAY Sports
New England Patriots running back Sony Michel warms up before Super Bowl LIII against the Los Angeles Rams. Christopher Hanewinckel, USA TODAY Sports
Los Angeles Rams kicker Greg Zuerlein warms up before Super Bowl LIII against the New England Patriots. Dale Zanine, USA TODAY Sports
New England Patriots owner Robert Kraft and his wife Ricki Noel Lander on the field at Mercedes-Benz Stadium before Super Bowl LIII. Matthew Emmons, USA TODAY Sports
Los Angeles Rams owner Stan Kroenke, right, talks with head coach Sean McVay prior to Super Bowl LIII against the New England Patriots. Richard Mackson, USA TODAY Sports
Los Angeles Rams wide receiver Robert Woods. left, and New England Patriots wide receiver Chris Hogan meet during warmups before Super Bowl LIII at Mercedes-Benz Stadium. Jason Getz, USA TODAY Sports
Los Angeles Rams nose tackle Ndamukong Suh warms up before Super Bowl LIII against the New England Patriots at Mercedes-Benz Stadium. Brett Davis, USA TODAY Sports
Los Angeles Rams quarterback Jared Goff warms up before Super Bowl LIII at Mercedes-Benz Stadium. Matthew Emmons, USA TODAY Sports
New England Patriots cornerback Stephon Gilmore warms up before Super Bowl LIII at Mercedes-Benz Stadium. Dale Zanine, USA TODAY Sports
Former player and NFL Network analyst Michael Irvin has a laugh before Super Bowl LIII between the New England Patriots and the Los Angeles Rams. Christopher Hanewinckel, USA TODAY Sports
Olympic champion track and field champion Usain Bolt throws a football on the field before Super Bowl LIII at Mercedes-Benz Stadium. Christopher Hanewinckel, USA TODAY Sports
Congressman John Lewis (D-Georgia), center, makes his way into Mercedes-Benz Stadium in Atlanta before Super Bowl LIII. Kevin Jairaj, USA TODAY Sports
UFC fighter Conor McGregor holds his son Conor Jack McGregor Jr. on the sidelines of Merdeces-Benz Stadium before Super Bowl LIII between the New England Patriots and the Los Angeles Rams. Christopher Hanewinckel, USA TODAY Sports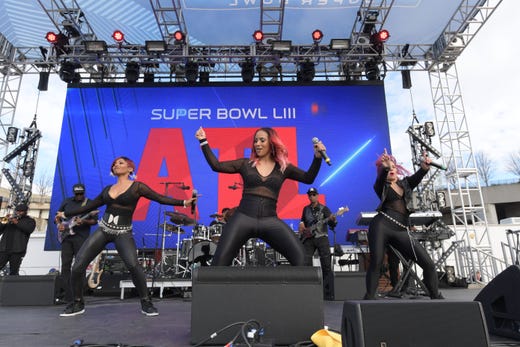 Simply Irresistible performs outside Mercedes-Benz Stadium before Super Bowl LIII. Kirby Lee, USA TODAY Sports
Young entertainers perform outside of Mercedes-Benz Stadium before Super Bowl LIII. Kirby Lee, USA TODAY Sports
Fans gather outside of Mercedes-Benz Stadium before Super Bowl LIII between the New England Patriots and the Los Angeles Rams. Christopher Hanewinckel, USA TODAY Sports
A choir performs before Super Bowl LIII at Mercedes-Benz Stadium. Dale Zanine, USA TODAY Sports
A Los Angeles Rams displays his spirit before Super Bowl LIII. Christopher Hanewinckel, USA TODAY Sports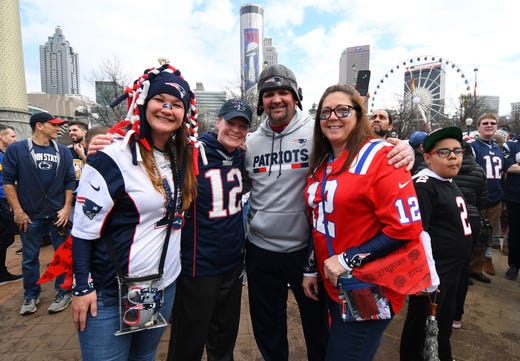 A group of New England Patriots fans gather outside Mercedes-Benz Stadium before Super Bowl LIII. Christopher Hanewinckel, USA TODAY Sports
Rams fans pose for a photo before Super Bowl LIII. Christopher Hanewinckel, USA TODAY Sports
A New England Patriots fan wears a Tom Brady mask before Super Bowl LIII. Dale Zanine, USA TODAY Sports
New England Patriots quarterback Tom Brady arrives before Super Bowl LIII against the Los Angeles Rams at Mercedes-Benz Stadium. Mark J. Rebilas, USA TODAY Sports
New England Patriots head coach Bill Belichick and girlfriend Linda Holliday arrive before Super Bowl LIII. Mark J. Rebilas, USA TODAY Sports
New England Patriots wide receiver Julian Edelman arrives before Super Bowl LIII. Mark J. Rebilas, USA TODAY Sports
General view of a ticket to Super Bowl LIII at Mercedes-Benz Stadium. Kirby Lee, USA TODAY Sports
General view of a ticket to Super Bowl LIII at Mercedes-Benz Stadium. Kirby Lee, USA TODAY Sports
Outside of Mercedes-Benz Stadium before Super Bowl LIII between the Patriots and Rams. Christopher Hanewinckel, USA TODAY Sports
Inside Mercedes-Benz Stadium before Super Bowl LIII between the Patriots and Rams. Kirby Lee, USA TODAY Sports
Helmets for the Patriots and Rams on display before Super Bowl LIII outside Mercedes-Benz Stadium. Mark J. Rebilas, USA TODAY Sports
Mercedes-Benz Stadium before Super Bowl LIII between the Patriots and Rams. Kirby Lee, USA TODAY Sports
Downtown Atlanta skyline and Skyview Atlanta ferris wheel prior to Super Bowl LIII between the Patriots and Rams. Kirby Lee, USA TODAY Sports
Interested in this topic? You may also want to view these photo galleries:
Autoplay
Show Thumbnails
Show Captions